The Government of Ghana and the Teacher Unions have failed to reach a consensus of the increment of salaries in post 2020 elections.
However, there is an opportunity for some sections of staff of the Ghana Education Service to see an upward adjustments in their salaries, provided they pass the 2021 Promotion Aptitude Test.
Read Also: Good news: Daily minimum wage increased by 6% taking effect from June 4
Ghana Education Service has released the results of the 2021 Promotion Aptitude Test. This was contained in a circular signed by the Deputy Director in charge Management Systems, Anthony Boateng and dated Tuesday, 2nd June, 2021.
According to the said circular, twenty-nine, four hundred sixty-five (29,465) of the 46,886 candidates passed. The Assistant Director II grade had the highest number of candidates.
The Deputy Director grade had 3,611 candidates but 2,139 were successful. For Assistant Director I, 5,817 of the 8753 passed.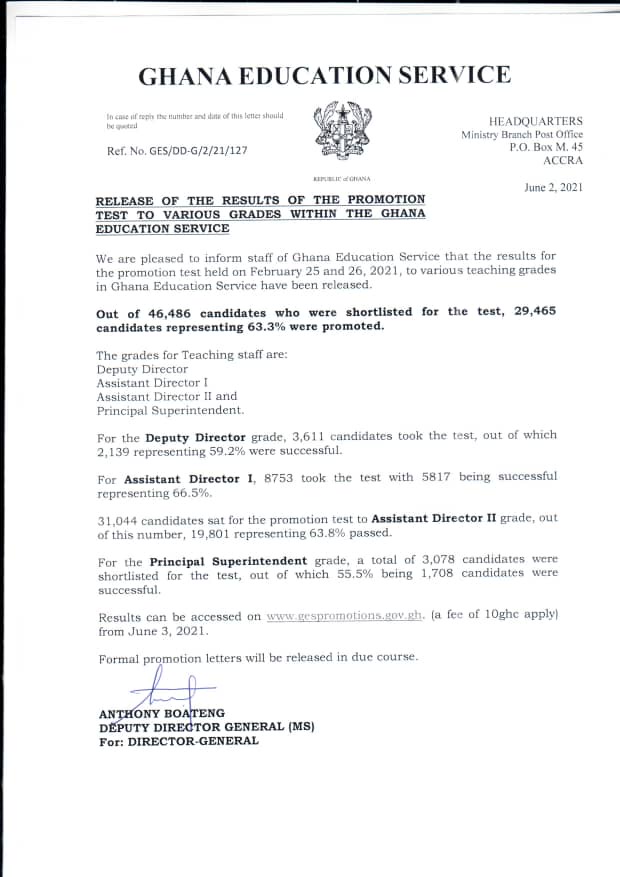 For Assistant Director II, 19,801 out the 31,044 who sat the promotion examination came out with flying colours. 1,708 out the 3078 of teachers who took part in the principal Superintendent grade were successful.
It is very likely that the successful candidate will be put on their respective grades in the next few months.
It remains to be seen if the Ghana Education Service factors the appraisal forms filled by supervisors of candidates in determining the final results.